How the 14-day Cloudcraft Pro trial works
Welcome to Cloudcraft, it is great to have you with us!
To give you a chance to poke around, and get a feel for our product, when you first sign up with Cloudcraft Pro you are granted a 14-day trial with a 30-day money-back guarantee.
During this time, you have access to all pro features, includingdiagrams with an infinite grid to model massive architectures, live AWS synchronization, and Cloudcraft API access.
There are absolutely no limitations during the trial, and you can add as many team members as you would like.
Getting started
First things first: let us get you signed up!
Access our website and click on the sign up button in the top right corner of your screen, which will get you started with our free plan.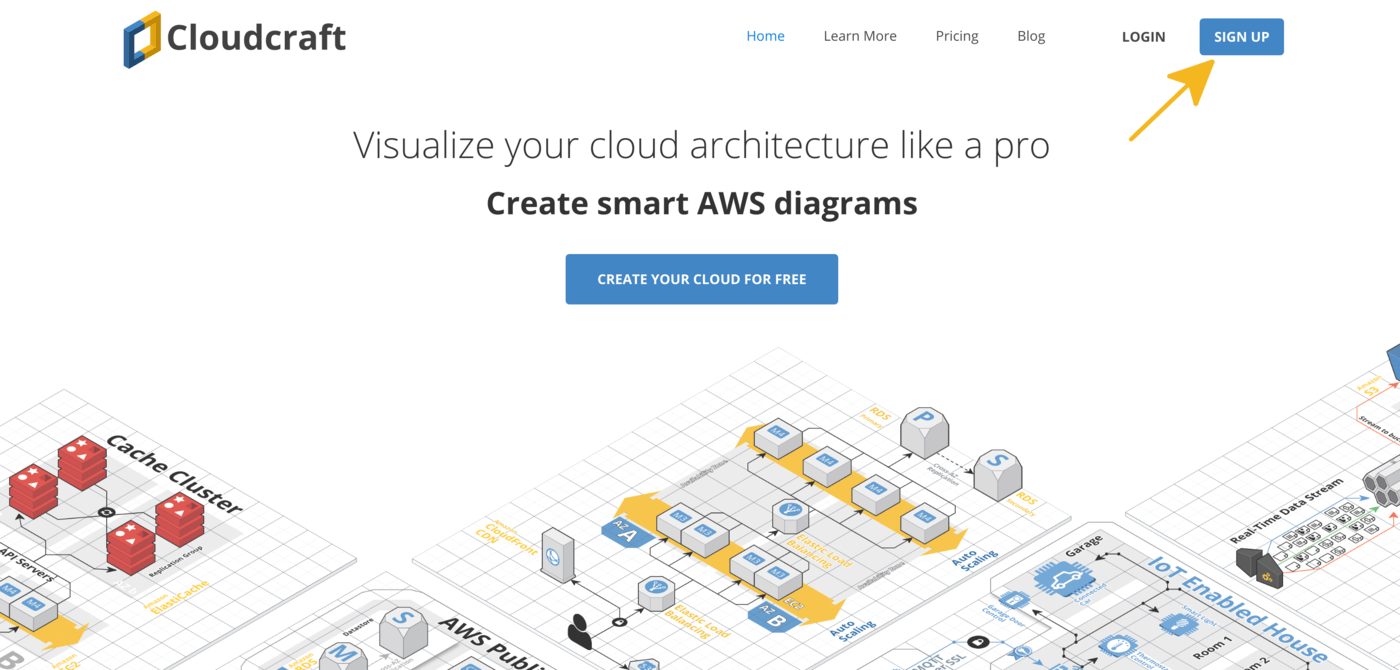 You will be asked to enter your name, email address, and password — choose a strong one —, but you can also sign up using your existing Google Account.
Now that you are logged in, on the next screen you can go through our product tutorial, or dismiss it and start creating diagrams like a pro. As a courtesy, we added a reference diagram as well as several library reference architectures to get you started.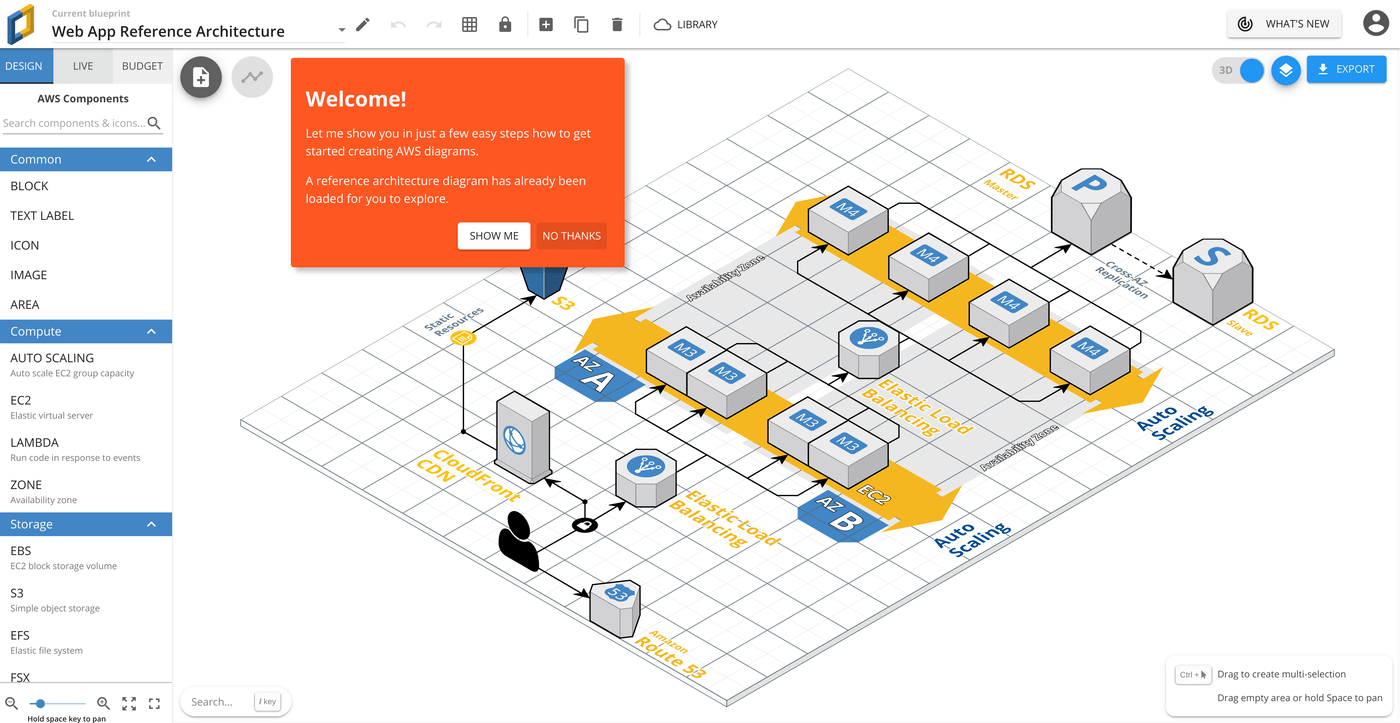 But wait, that is just the regular free tier! To get your 14-days trial started, click on the user avatar in the top right corner of your screen while inside the application, and then select the subscription options menu, which will open a modal window on your screen.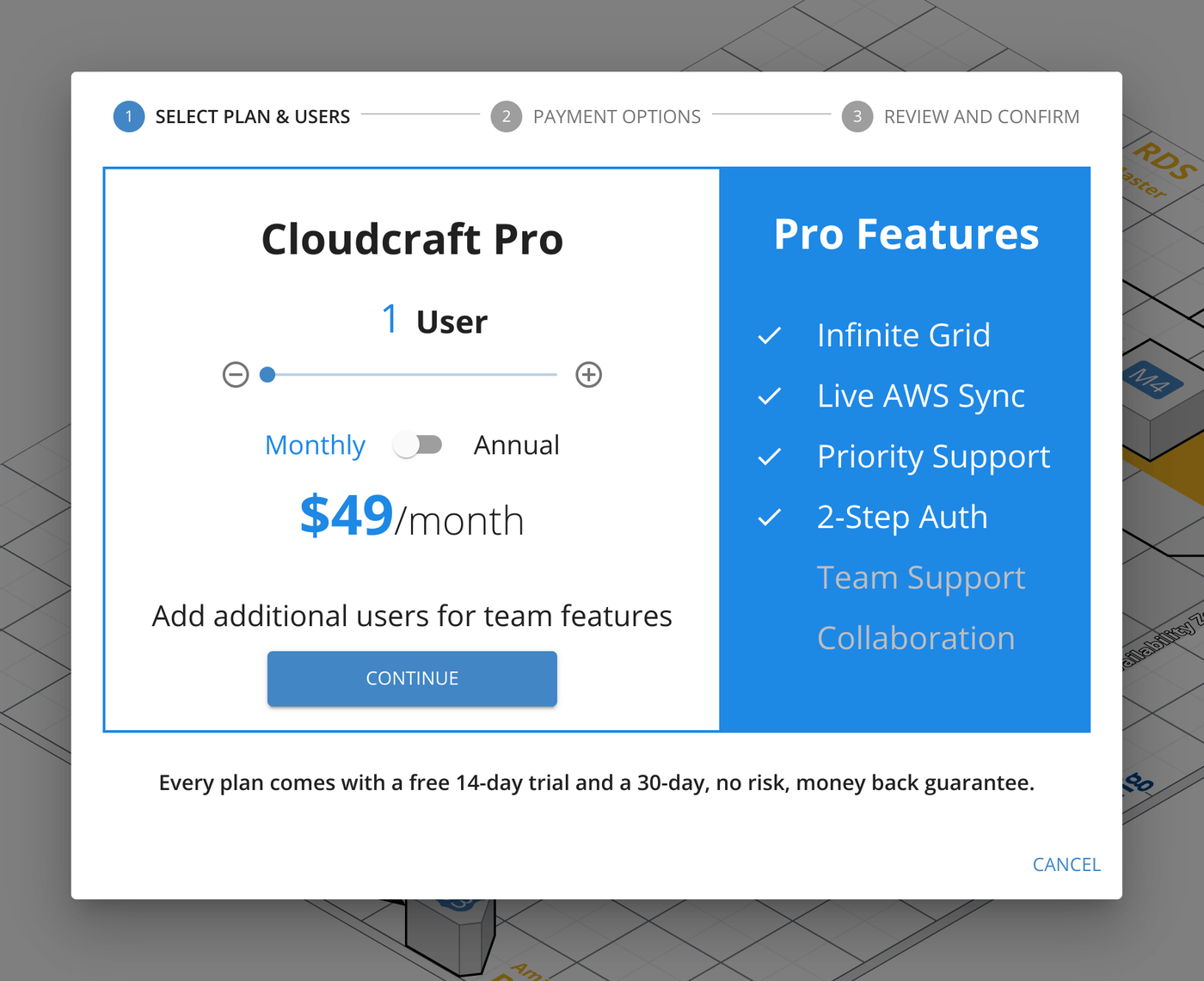 In this screen you can choose how many users you are interested in collaborating with while testing, but can also choose to go solo. However, if you choose only one user, team support and collaboration features are not enabled, as those require multiple users on a Cloudcraft Team.
Almost there! By clicking continue, you will be prompted for your organization name as well as your credit card information.
Click the confirm subscription button, and that is it, you can now test all features of Cloudcraft Pro! Yes, it is that easy.
To help you get started with the product as fast as possible, you can also book an online demo with a member of our team over here.
Features included in your trial
All features of Cloudcraft Pro are included for you to get the most out of your trial. We are positive they will help make your life with AWS a lot easier!
Priority Support
Infinite Grid
Live AWS Sync
Cost Calculations
Connect an unlimited number of AWS Accounts
Real-time Team Collaboration
Cloudcraft API Access
2-Factor Authentication
What happens when my trial is over?
You will get a reminder letting you know that your trial is about to end three days before it does.
At the end of the trial, if you decide to stick around — and we would love if you did! —, your credit card will be charged, and your account will be upgraded to the Cloudcraft Pro plan.
If you decide to downgrade to our free plan before the trial is over, do not worry! You will not lose access to the diagrams you created — you will lose the features of the pro version, though.
Common questions
Do I have to wait 14 days before upgrading or downgrading?
Not at all! You can upgrade or downgrade at any time by navigating to User → Subscription settings → Change plan.
If you do not have access to that page, you will need to reach out to the account owner, who is the only Cloudcraft user with access to the subscription settings.
My trial ended, but I still need to test things out!
Not a problem! We understand life gets busy, so send us a quick email to request a trial extension.
Will I be charged at the end of the trial?
Yes, by the end of the trial, you will be charged for your subscription. If you prefer a trial with no credit card required, please get in touch with our support team.
Does the trial include GovCloud support?
Access to Cloudcraft in the AWS US GovCloud regions is limited to our Enterprise plan. Get in touch with our sales team to learn more.